David Stuart je prvi identificiral in poimenoval kemseks, kulturni pojav na gejevski sceni, ki predstavlja izziv tako za obstoječe metode preventive na področju hiva in aidsa, kot tudi uživanja prepovedanih substanc, ter duševnega zdravja. Razvil je prve terapevtske in podporne programe za uporabnike kemseksa (program samopomoči je na voljo v slovenskem jeziku), ter se zavzemal za mednarodno ozaveščenost o problematičnosti novega pojava in spodbujal dialog o njem v LGBT skupnosti in med zdravstvenimi delavci. Poleg terapevtskega dela še naprej podpira skupnosti in vlade v drugih državah pri soočenju s fenomenom kemseksa in jih opremlja s kulturnimi kompetencami.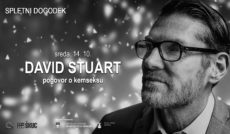 V pogovoru z moderatorjem Jernejem Škofom nam je razložil zakaj si kemseks kot fenomen zasluži posebno pozornost in podporne storitve znotraj LGBT skupnosti. Pri kemseksu naj ne bi šlo za seksualizirano uporabo drog, pač pa za kulturni fenomen lasten skupnosti, za katerega razumevanje so potrebne kulturne kompetence, saj naj bi le tako lahko nudili ustrezno podporo in pomoč osebam, ki jo potrebujejo. Povedal nam je, da posledica kemseksa ni le tveganje za prenos SPO. Po eni strani je lahko užitek, zabava, po drugi strani pa so njegove posledice lahko tudi psihoze, spolni napad, počasno drsenje v depresijo, vedno pogostejša raba drog, zasvojenost in nezmožnost uživanja v spolnem odnosu brez drog. Po njegovem mnenju po drogah in alkoholu posegamo, ker se potem počutimo bolje. Naštel pa je še več vzrokov za uporabo. Med drugim omenja, da ima lahko veliko oseb, zaradi določenih travm v preteklosti povezanih s svojo homoseksualno usmerjenostjo, precej kompleksno težavo s preprostim dejanjem čutenja užitka med spolnim odnosom, to oviro pa uspešno rešujejo določene droge. Druga stvar, ki smo se je v pogovoru dotaknili, je občutek osamljenosti, ki naj bi se jo že v najstniškem obdobju naučili reševati s spolnim odnosom. Opozoril je, da je osamljenost lahko zelo prisotna tudi pri osebah, ki sicer živijo v ljubečih in pozornosti polnih družinah, pa vendar se pojavi, saj se zaradi spolne usmerjenosti velikokrat počutijo nerazumljene. Ozadij za razumevanje tega kompleksnega fenomena je še več, med drugim smo se dotaknili še digitalizacije spoznavanj, novega, predvsem hitrejšega in hipnejšega načina komuniciranja, vse večje obsedenosti s fizičnim videzom, stigme, marginalizacije in drugih.
Prakticiranje kemseksa je grobo rečeno lahko problematično ali neproblematično, vmes pa je še ogromen prostor, ko ne vemo in se sprašujemo ali smo v težavah. Dejstvo je, da o tem lahko presoja le oseba sama tehtajoč svojo prakso in posledice, ki jih le-ta prinaša zanj. Pomembno je postavljati si meje in se jih držati. To pa lahko predstavlja precejšnjo težavo, saj so uporabljene droge zelo močno povezane z dopaminom, druga komponenta pa je spolni odnos, za katerega pravi, da gre za prvinski nagon. S pogostostjo prakticiranja tako povezava med "kognitivno" stranjo možganovi in "prvinsko" stranjo postaja vse močnejša, oseba pa vse težje obvladuje situacijo. Le malo je ljudi, ki postavljenih meja ne prečkajo, pa vendar si vsakdo, ki prakticira kemseks, zasluži zmožnost obvladovanja te veščine omejevanja. Naloga LGBT organizacij, svetovalcev in terapevtov je torej, da pomagajo uporabnikom pri obvladovanju postavljenih meja in jim na nek način pomagajo to veščino osvojiti. Pri tem je pomembno zavedati se, da gre pri kemseksu za gejevsko kulturno vprašanje in ga kot takega tudi naslavljati ter nuditi ustrezno podporo in pomoč tako izurjenih svetovalcev za drogo, kot terapevtov, nikakor pa ne dopustiti, da vsa podpora pade na pleča vrstniškega svetovanja in na sámo skupnost.
Celoten prepis pogovora z Davidom v angleščini smo zaradi večjega obsega razdelili in ga zaradi boljše preglednosti objavljamo spodaj po tematskih sklopih, ki si sledijo kot v pogovoru.
---
Dogodek je bil del serije pogovorov o kemseksu in je potekal v okviru programa »Ustavimo HIV«, ki ga izvaja Društvo ŠKUC (sekcija ŠKUC Magnus) s podporo Ministrstva za zdravje in Mestne občine Ljubljana.
Več informacij o kemseksu je na voljo na spletni strani www.kemseks.si
---
Prepis pogovora z Davidom Stuartom
Objavo in prepis pripravil: Miha Bizjak